» Choose a colour and place your order
» Description of the lifting rope
---
Mandaran Movement System consists of:
1
cloth
, width 150 cm, length 260 cm.
The fabric feels nice and fluffy, and is characterized by low static charging.
Micro fiber, washable at 40°C, Material: 100% Polyester, 160 g/m
2
One edge is provided with a
padding
. It is optimized in material, width and length for hanging upside down. The pressure is distributed comfortably over a larger area. Thus, you can relax and feel secure. For washing, the padding can be removed.
The cloth has a high tensile strength and is enclosed at the ends with a belt sling. The breaking strength at the transition to the hooks is 22 kN.
Standard version with S-hooks, 8 mm thick, 60 * 30 mm
and slidable wooden rings to bunch the cloth together.
---
2 Structures with 3 padded handles
of braided rope, 10 mm, hemp colored,
high-strength polypropylene, 360 daN.
(360 daN corresponds approximately to the weight acting on a mass of 360 kg.)
The high quality foam of the grips(high density) pleases the hand. Sensitive feet find a comfortable cushioning.
Each handle braid is attached with an S-hook.
Carabiners can be ordered as an option.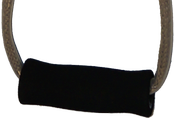 larger image
---
2
Loops
, which can be attached to a handle (70 x 18 cm).
(Carabiners and quickdraw-sling are recommended and can be ordered as an option.)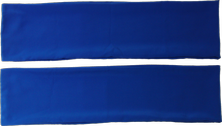 larger image
With sliding adjusters to bunch the cloth together and to give your foot or hand enough support.
---
2
Adjustment straps
for the S-hooks or carabiners of cloth and grips.
Material width: 19 mm
Length: 115 cm
Spacing of the loops: 85 mm (12 loops total)
Breaking strength: 22 kN (with CE and EN566 standard)
(1 kN corresponds approximately to the weight acting on a mass of 100 kg.)
Material: Polyamide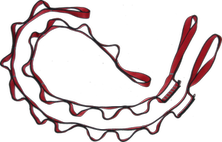 larger image
---
In a cotton Bag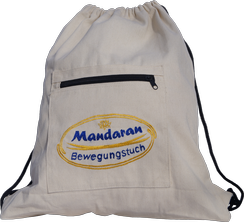 larger image
---
Instruction Manual (English, Spanish or Czech)


larger image
---
Made in Germany
---
» Choose a colour and place your order
---
With supporting rope (optional)
The Mandaran can optionally be delivered with a supporting rope.
This enlarges the use of the all-rounder Mandaran.
This multi-use is an absolute novelty, as far as we known.

Therefore you lift up the perforated rope (which runs through the padded edge) to a certain extend. Then you fix it by putting the perforation hole on a S-hook (look at the photos).
There are 3 levels of application: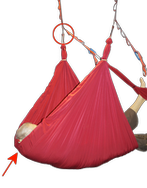 larger image
Stufe 1: lying on the back
Level 0
: It runs relaxed through the edge and through the inner of the cushion. It is not noticeable at usual yoga positions.
Level 1
: it slightly raises the area, where your head positioned and supports an eased storage of your neck.
This can be pleasant when you are lying on the back.
For therapeutical use it brings considerably better support.
Level 2
(you lift it up on both sides suitably) makes the Mandaran a
hanging chair
. For this purpose a big cushion is put in the back.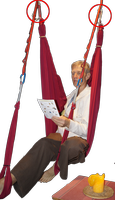 larger image
Level 2: hanging chair
Retrofitting a supporting rope:
Since we have developed this since summer 2013, most sets which were bought after can be retrofitted with a supporting rope.
If you got your set before that, then you can open 2 cm of the seam and line the edge again.
---